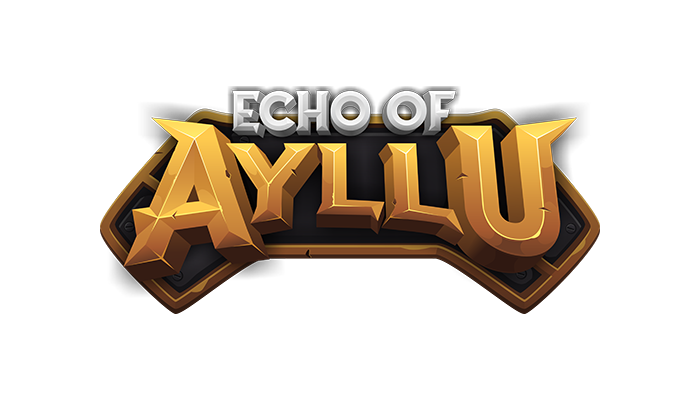 Dive into the heart of a spectacular vision
of the future of our humanity.
And marks History.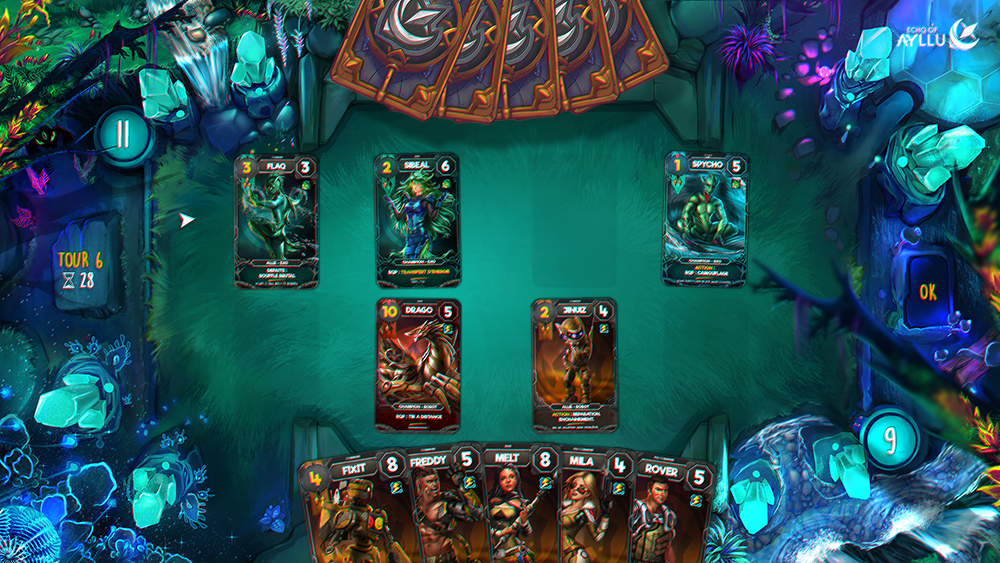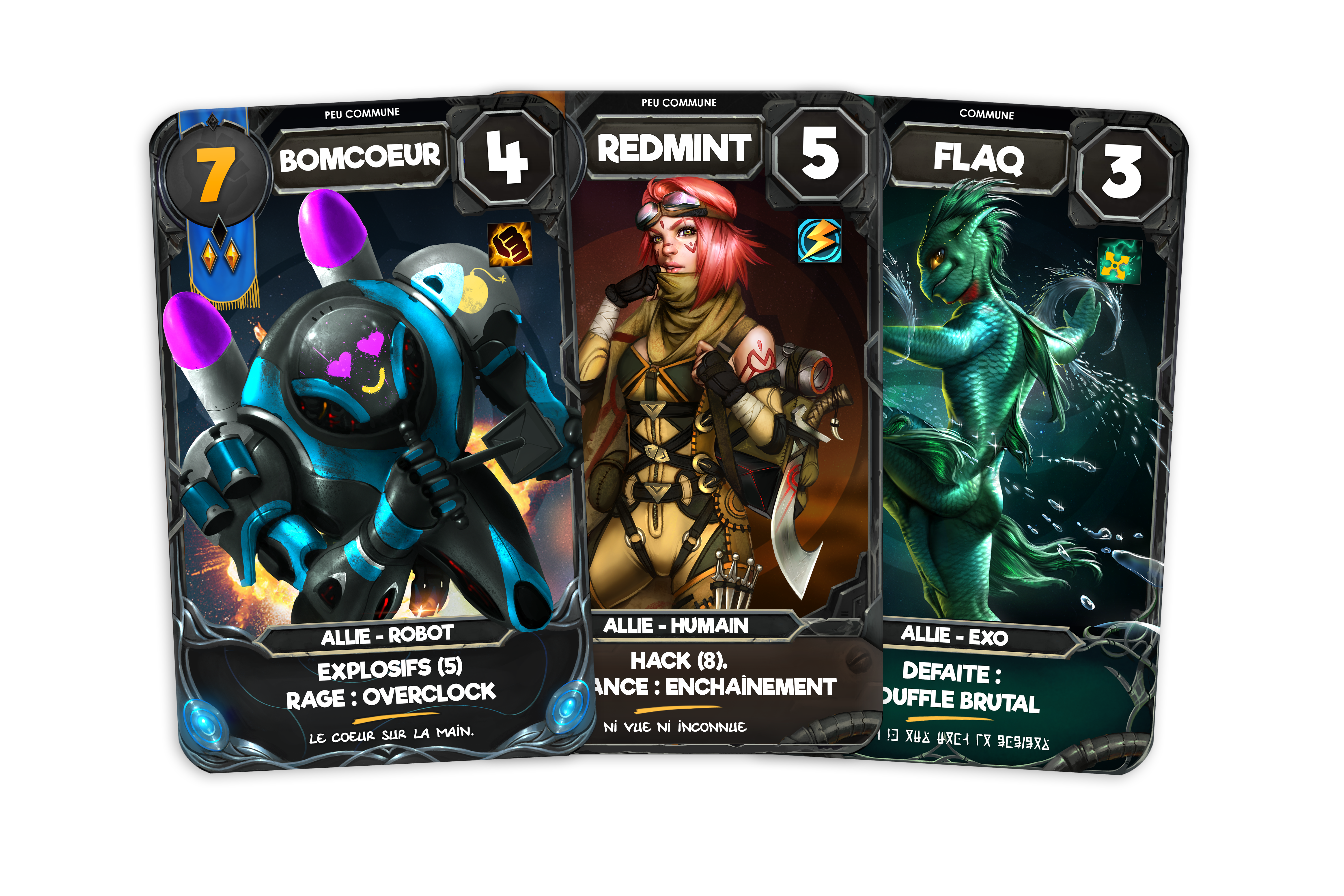 Become the one you want.
Your choices, your adventure.
Discover their insane adventures, show them relentless strategies … or trade them!
SIBEAL
PLANET : Elysia
RACE : Exo (half-Naqua)

Sibéal is a child of the lands of Elysia, but also of its waters. Being a hybrid, she represents the perfect blend of the social diversity of this planet. Give her some water, she will cure all ailments.

JACKSET
PLANET : Elysia
RACE : Exo (half-Naqua)

Like his sister Sibéal, Jackset marks the result of the combination of Human and Naqua genes.
If these hybrid beings get the best of both worlds in this way, they also get the worst.

SHAINA
PLANET : Proxima
RACE : Human

By developing a quantum electricity management system, Shaïna overnight became a researcher recognized by her pairs.
Today, her system has been greatly improved, and can cure many heart diseases ... and certainly cause others.

FREDDY
PLANET : Terra
RACE : Human

During the Great Invasion, Freddy lost the use of both arms. It was without counting the support of his friends and a crazy mechanic. Today, more determined than ever, he returns to the field to fulfill his destiny.
In him flows the blood of his ancestors ... on him, the blood of his enemies.

WATOO
PLANET : Elysia
RACE : Exo (Naqua)

Watoo is crazy about surfing. Is it astonishing? Watoo is the kind of Naqua who lift 820 cubic meters of water just for the sake of generating colossal waves.
A skill he doesn't hesitate to use in the field when it comes to having fun with a few Proxima's guys.
SiN_31
PLANET : Proxima
RACE : Human

Life in the sprawling cybercity of Holofia is for SiN, comparable to a huge video game.
She is a genius hacker who penetrates both processors and men's hearts. After its passage, nothing is really the same.

SAIGO
PLANET : Terra
RACE : Robot

Machines have inhabited the worlds of our galaxy for a long time! But machines like this ... well it's the same.
Anyway, we always needed to have a household robot to clean... this model does it very quickly!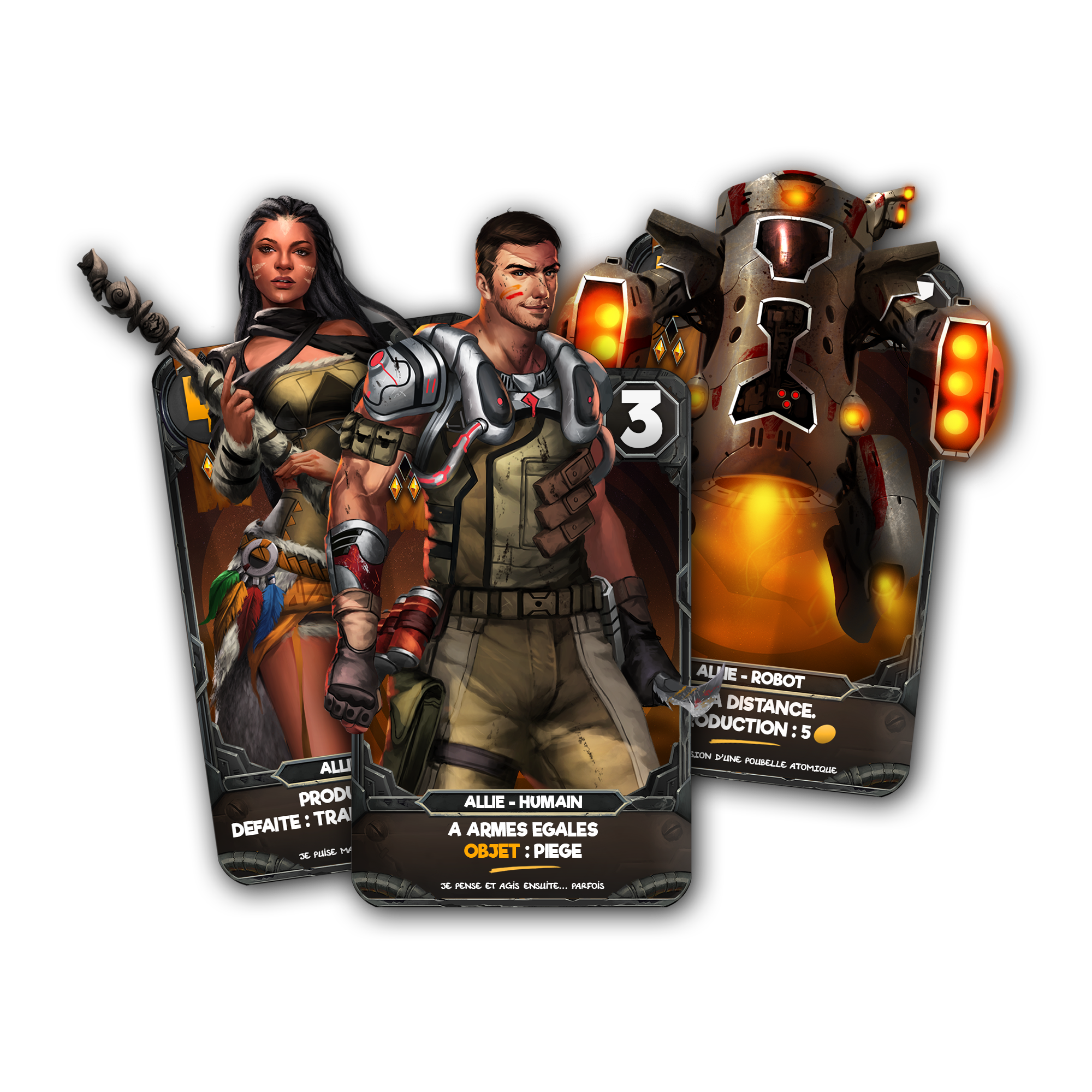 After the first great interplanetary war, the earth's population was literally wiped out. Many survivors have asked for exile on Proxima, but the resistance that works in the shadows is determined to change the course of its history …
With the support of neighboring planets, Proxima quickly became powerful and independent and within a few years formed the Universal Coalition. In 2403, Proxima decides to take possession of Earth by force, for the exploitation of its Luminites resources.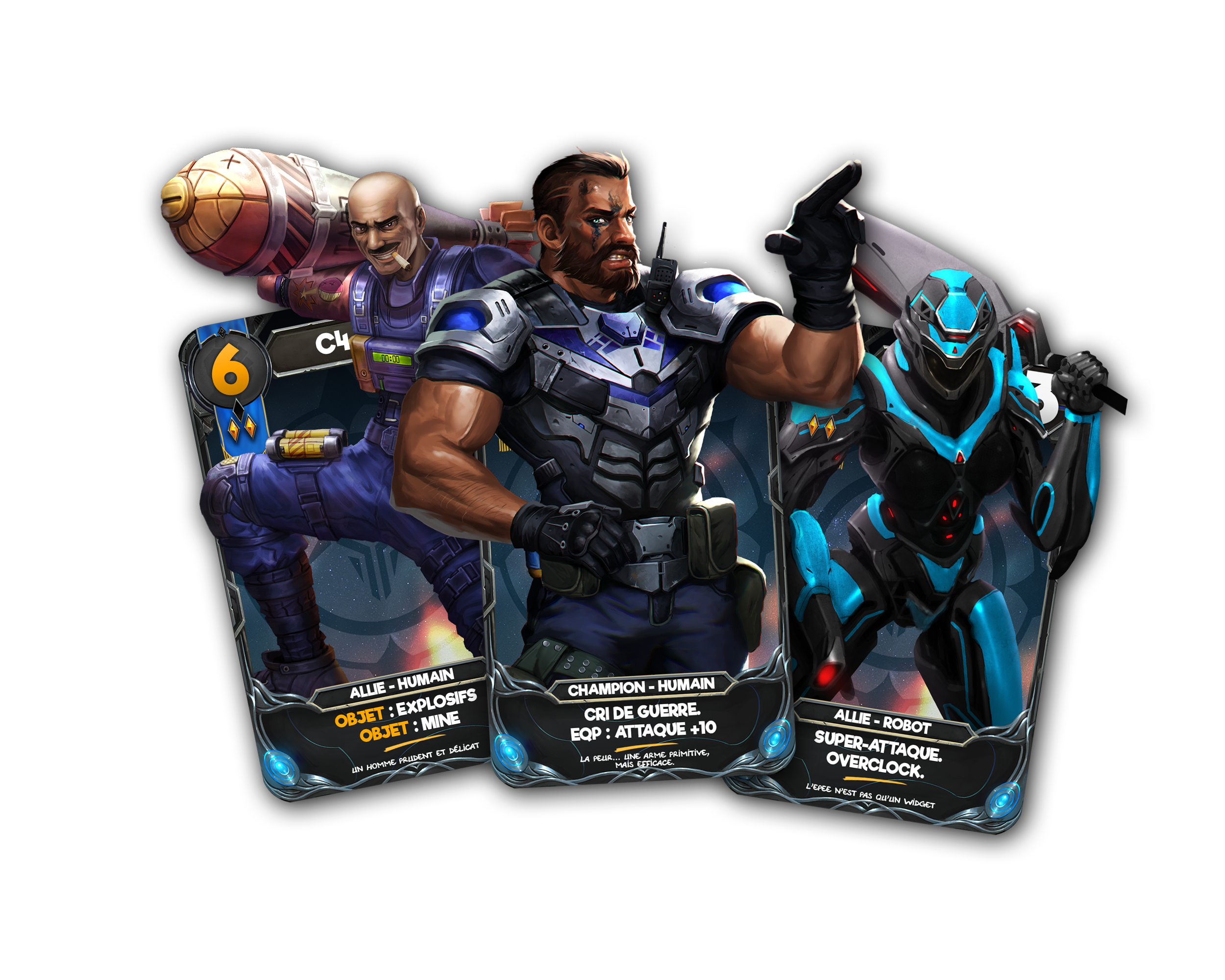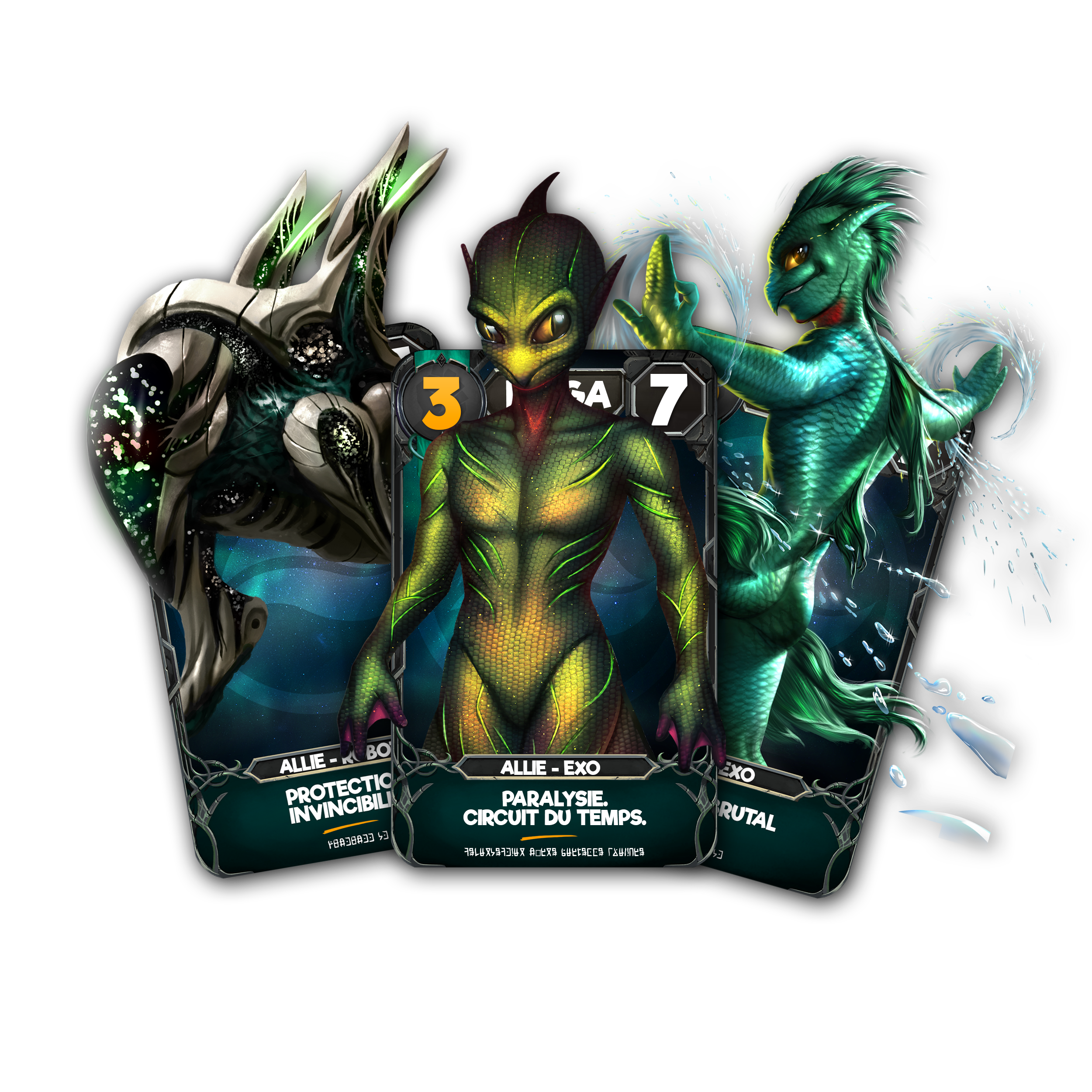 Elysia represents one of the most advanced planet in our galaxy. Science is far more advanced there than any other place, and spirituality holds a very important place. Many species coexist there, from the wildest to the most advanced. Organic robots form an intelligent shield for the protection of thIS unique planet, where nature is classified as an intergalactic heritage
PLAYER TO PLAYER
MARKET
Trade or sell the cards you earned in game. The inter-player market gives you the flexibility to increase the size of your collection easily, by buying the cards you need or selling the extras. 
Over 100 cards available in game. All with special abilities, a unique play style adapted to their planet, and various synergies.